In order to minimize the risk of illness and protect those who are entrusted to us, all weekend services and events have been postponed. You can access the entire Online Service by following the link above from wherever you're tuning in!
Coronavirus Updates
March 23, 2020
Due to health precautions, all Lakeside services will be online for the weekend of March 28-29.
Love Like Jesus
GIVE BLOOD | APRIL 9, NOON-6 PM | LAKESIDE PARK CAMPUS
Due to the incredible response, Hoxworth Blood Center is securing the necessary staff to handle more donors while ensuring safety precautions due to COVID-19. Limited spots available! Click lakeside.org/giveblood for information and to sign up.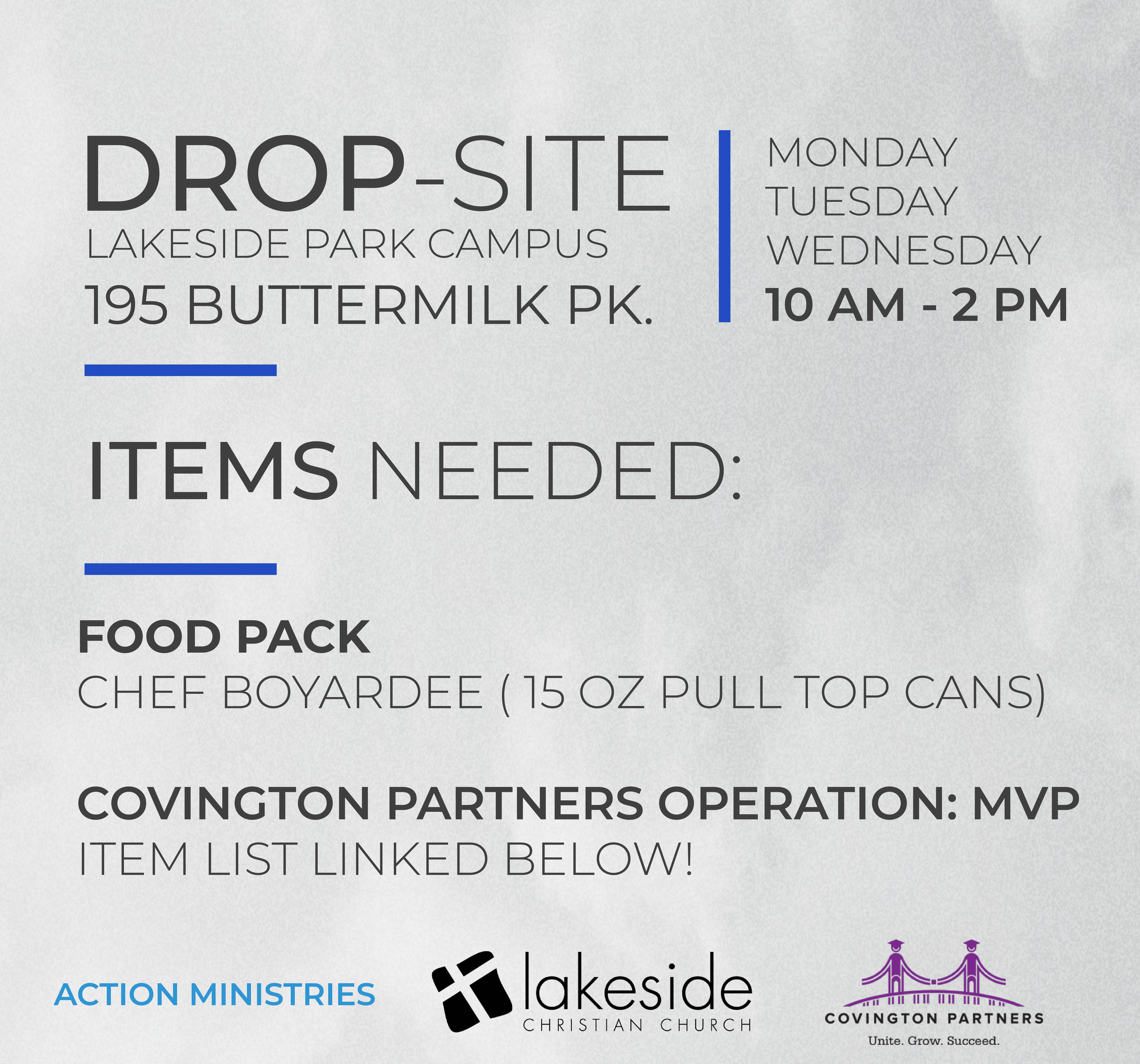 COVINGTON PARTNERS
We're excited to join forces with Covington Partners and Operation: MVP as COVID-19 continues to impact our communities. This is a tangible way to mobilize hope and meet basic needs.
During this vital time, if you are able, we hope you will consider helping us meet the needs of our Most Valuable People. As of now, there are three ways you can offer support:
1.) Donate items at the specified drop-off site Monday-Wednesday from 10 AM-2 PM:
ACTION MINISTRIES

We're in need of 15 oz Chef Boyardee pull top cans!
Resources:
TALKING WITH YOUR KIDS (about Coronavirus, School Closings, & Social Distancing)
Tips on how to navigate the conversation with your kiddos.
KDPH (Kentucky Department of Public Health)
Find information and guidance from the Kentucky Department for Public Health and stay up-to-date on how our state is actively responding to the COVID-19 situation.

CDC (Centers for Disease Control & Prevention)
Find information and health recommendations from the White House Coronavirus Task Force.
WHO (World Health Organization)
Find information and guidance from the World Health Organization regarding the current outbreak of coronavirus disease (COVID-19) that was first reported from Wuhan, China, on 31 December 2019.
Text "UPDATES" to 859.577.7518
Distribution texts will include updates regarding Lakeside's health precautions specific to COVID-19 (Coronavirus), as well as future updates regarding inclement weather guidelines, etc.